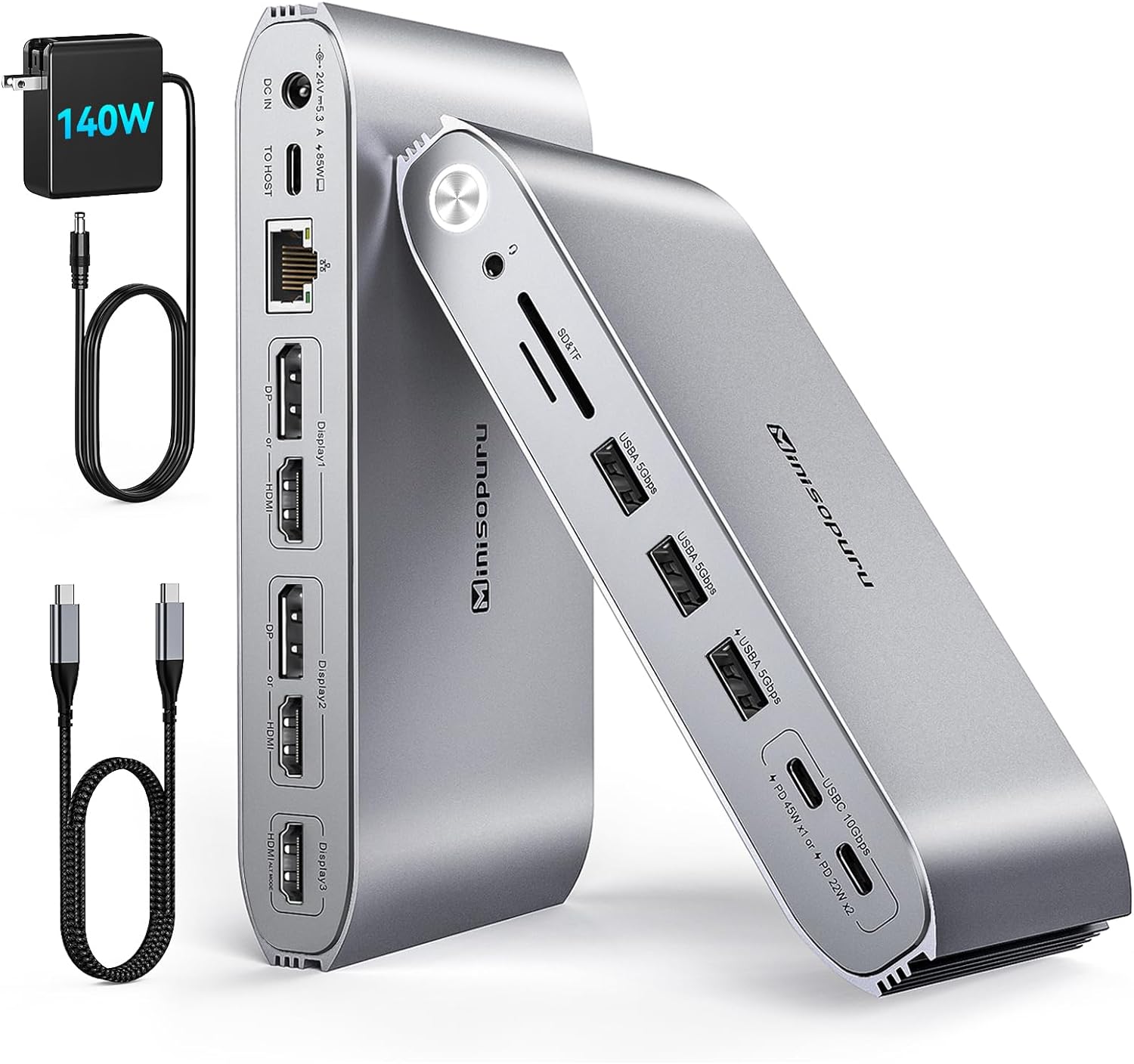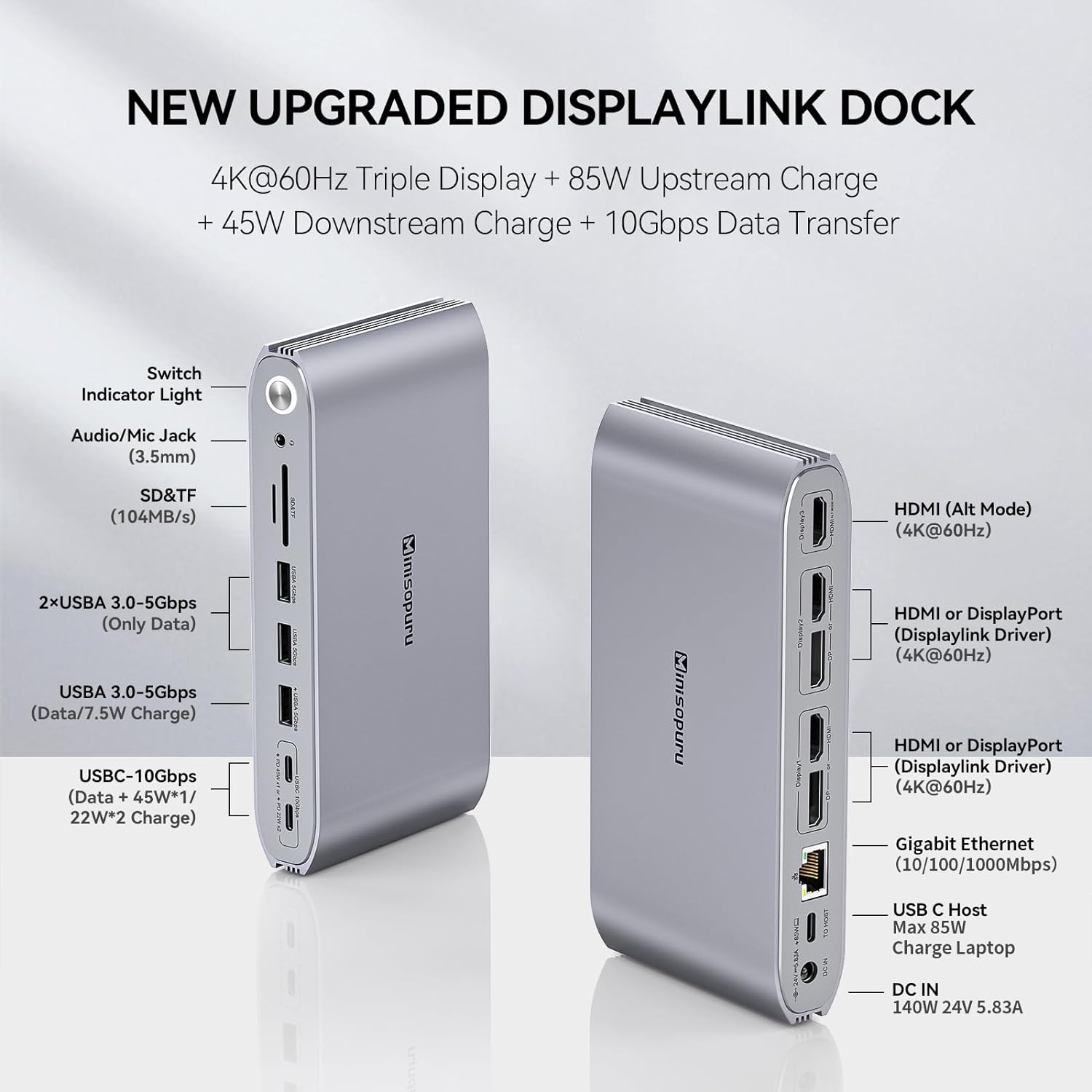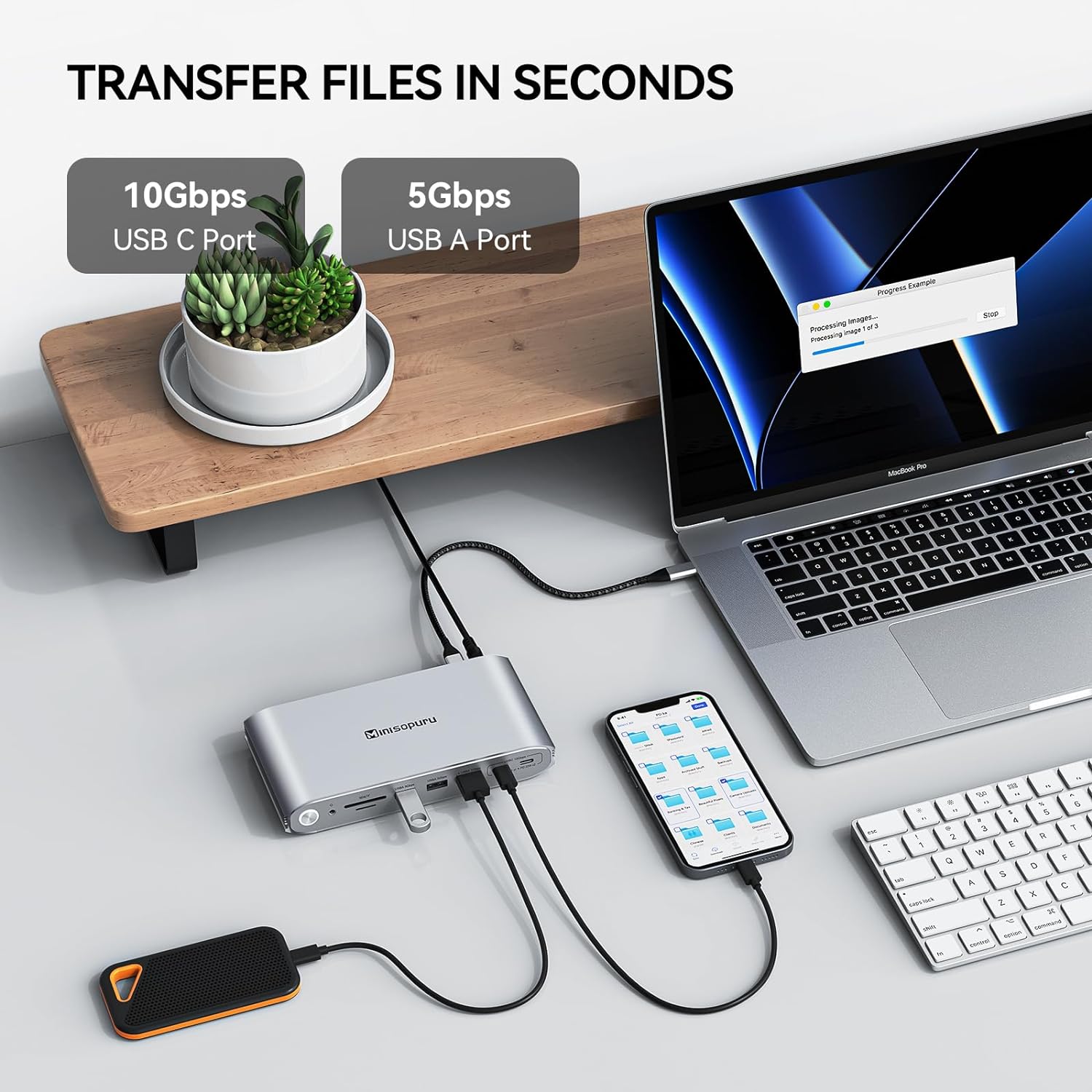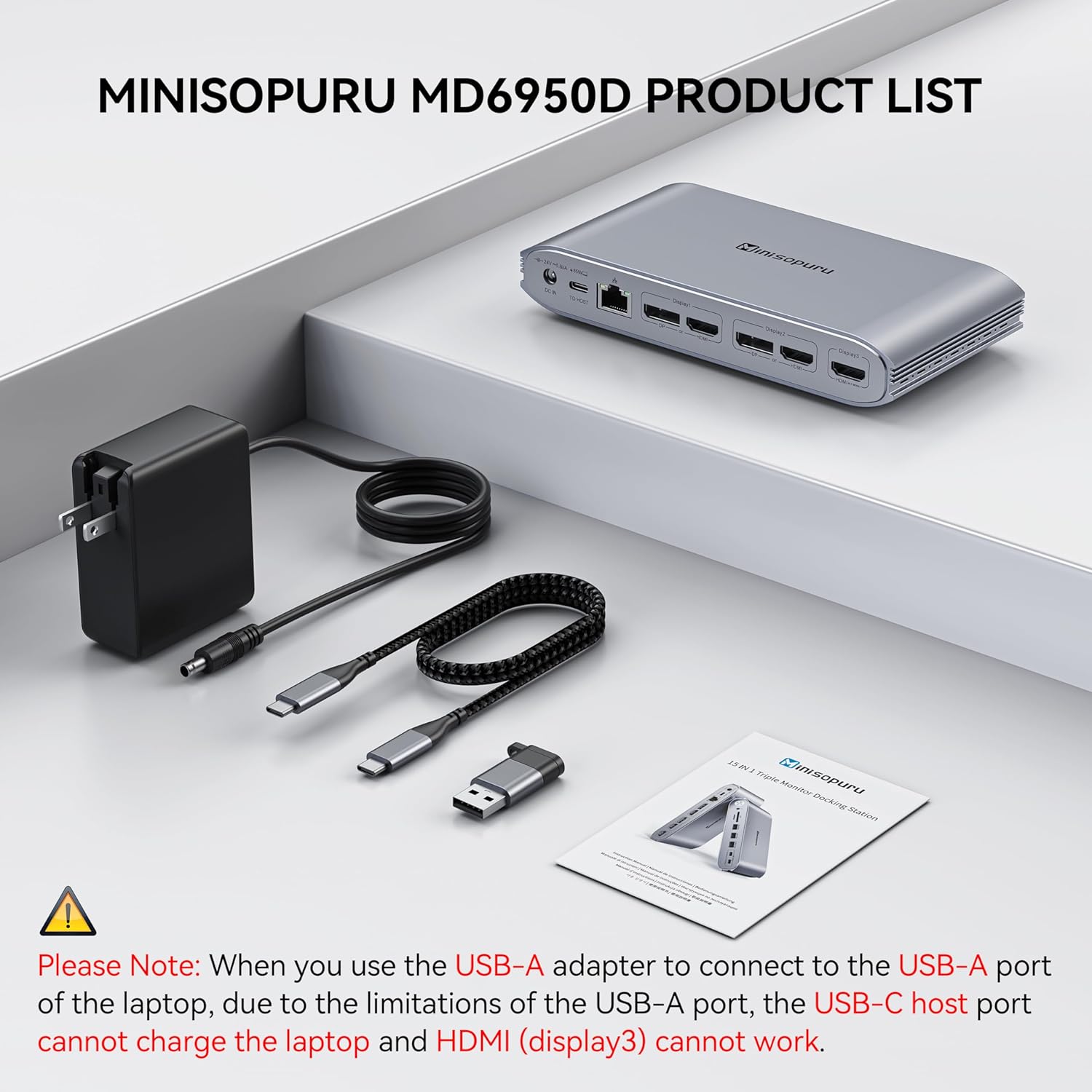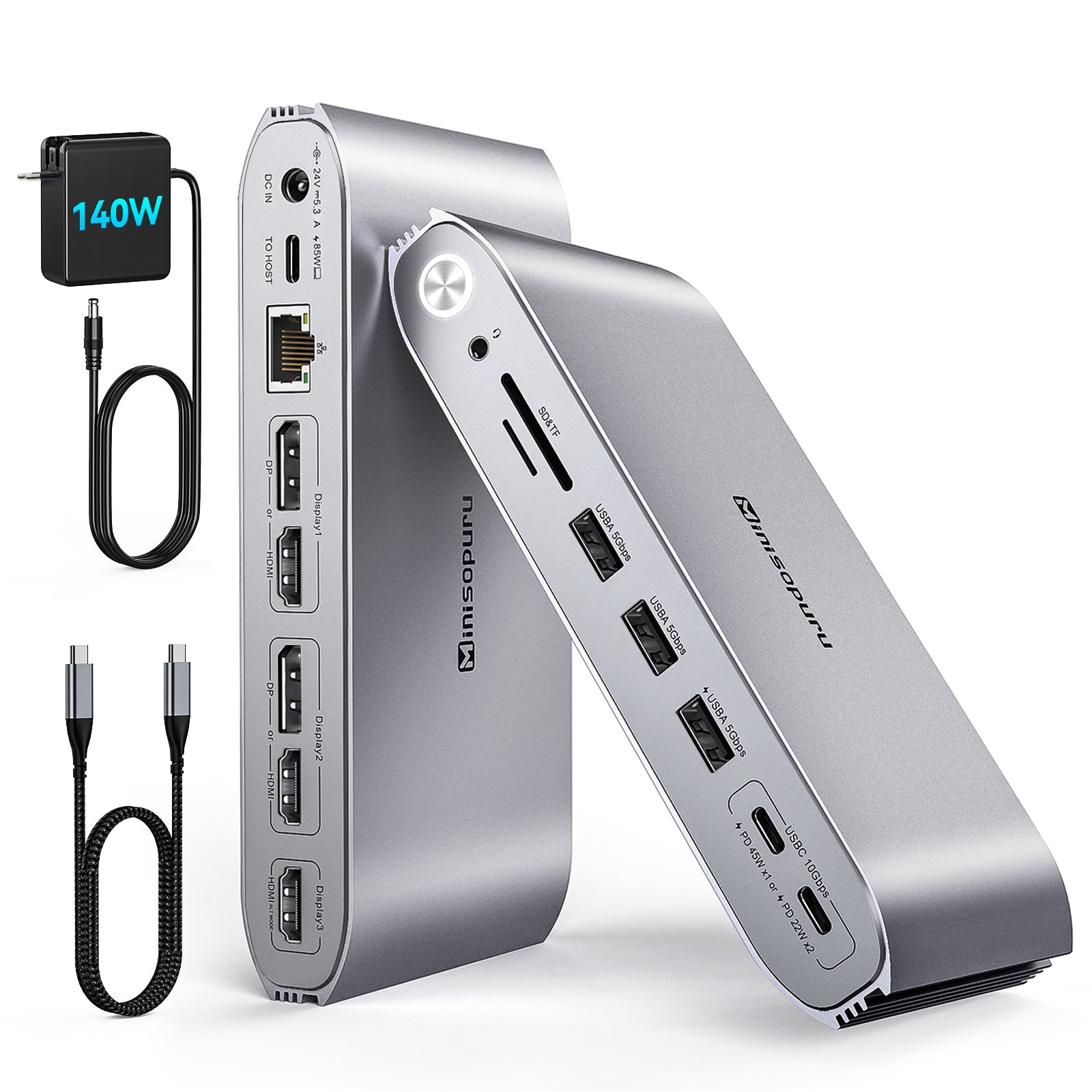 Upgrade Minisopuru DisplayLink Docking Station Triple Monitor with 140W Power Adapter|MD6950D
The Upgraded Minisopuru Displaylink Docking Station (Model MD6950D) with 140W power adapter expands 15 ports.
Your MacBook will not be limited by the M1/M2 chip and can be expanded to three monitors showing different content by installing the DisplayLink driver.

Note: MacOS/Windows/Android/Ubuntu must download the Displaylink driver so that the display function of this product can work properly.
Arrival time:
The U.S. specification is expecve on December 1ted to arrist
The European specification is expected to arrive on December 7th
Powerful 140W Power Adapter Included
This triple display docking station comes with a 140W power adapter without an additional power adapter, directly provides up to 85W fast charging for your laptop, and simultaneously can use the USB-C port on the front of the docking station to provide up to 45W charging for your phone and iPad.
Unlock 4K Triple/Dual Different Display
The Display Link docking stations with 3x HDMI and 2x DisplayPort By installing the DisplayLink driver: 2x 4K DisplayPort(DisplayLink Driver), 2x 4K HDMI (DisplayLink Driver), 1x HDMI Alt Mode(Display3).
★Note: Must install the DisplayLink driver on your laptop to ensure proper all media display functionality.
Widely Compatibility of Displaylink Dock
The USB C docking station is compatible with Thunderbolt 4/3, MacBook M1 M2, Windows, Chrome OS, Ubuntu, etc full-featured USB-C laptops and Android.
In addition, you can choose the USB-C PD port (Max 100W) of the laptop dock to charge your laptop.
Super-speed Data Transfer Experience
The docking station 3 monitors feature 3x USB A 3.2Gen1 and 2x Type-C ports, also charge your external devices at the same time. The 3-monitor docking station is also equipped with a TF/SD card slot.
Minisopuru Upgrade DisplayLink Docking Station Triple Display
Minisopuru DisplayLink Dock Unlock Triple Different Displays for MacOS & Windows
How to Download and Install Displaylink Driver?
A1:Please follow these steps: Privacy & Security > Screen Recording > Allow "DisplayLink manager" to connect. Or refer to the installation video on the details page for operation. If not solved, please contact Minisopuru.
A2: If you connect a laptop with the USB-C port, please make sure it is a full-featured USB-C port(with data, video output, and charging functions port),eg:Thunderbolt 3/4,USB4. If you connect a laptop with a USB-A port, NOTE: HDMI3 will not work.
A3: Please note: The DisplayLink docking station cannot play HDCP content(eg: some Netflix and YouTube paid content). When playing HDCP content, the video may not be played, the screen may turn black, and problems.
A4:Sure, please go to setting preferences: Battery/Displays - turn on "Prevent computer from sleeping automatically when the display is off". If you do not enable this setting, the DisplayLink Dock will not work with the lid closed.