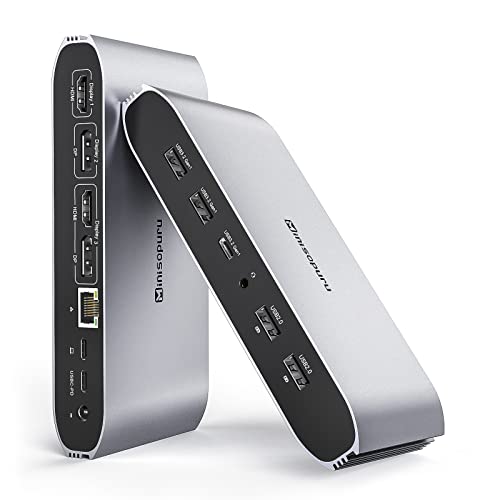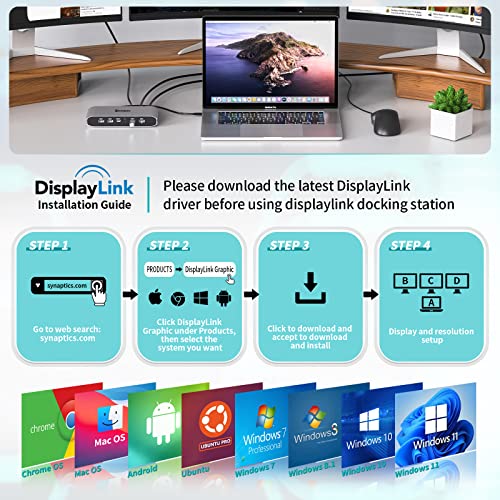 13-in-1 DisplayLink Laptop Docking Station for MacBook M1/M2/Windows/Chrome OS |DS808
The Minisopuru Displaylink Docking Station (Model DS808) with 36W power adapter expands 12 ports.
Your MacBook will not be limited by the M1/M2 chip and can be expanded to three monitors showing different content by installing the DisplayLink driver.
Note: MacOS/Windows/Android/Ubuntu must download the Displaylink driver so that the display function of this product can work properly.

Solve Limitation of MacBook M1/M2
Minisopuru laptop docking stations by installing the DisplayLink driver, making your MacBook not limited by the M1/M2 chip and extending three displays with different content. The DisplayLink docking station is compatible with Windows, Chrome OS, Ubuntu, and Android.
★Note: Linux/Unix is not supported. (Compatibility: Please refer to the DisplayLink website.)
★Note: Must install the DisplayLink driver on your device to ensure proper media display functionality.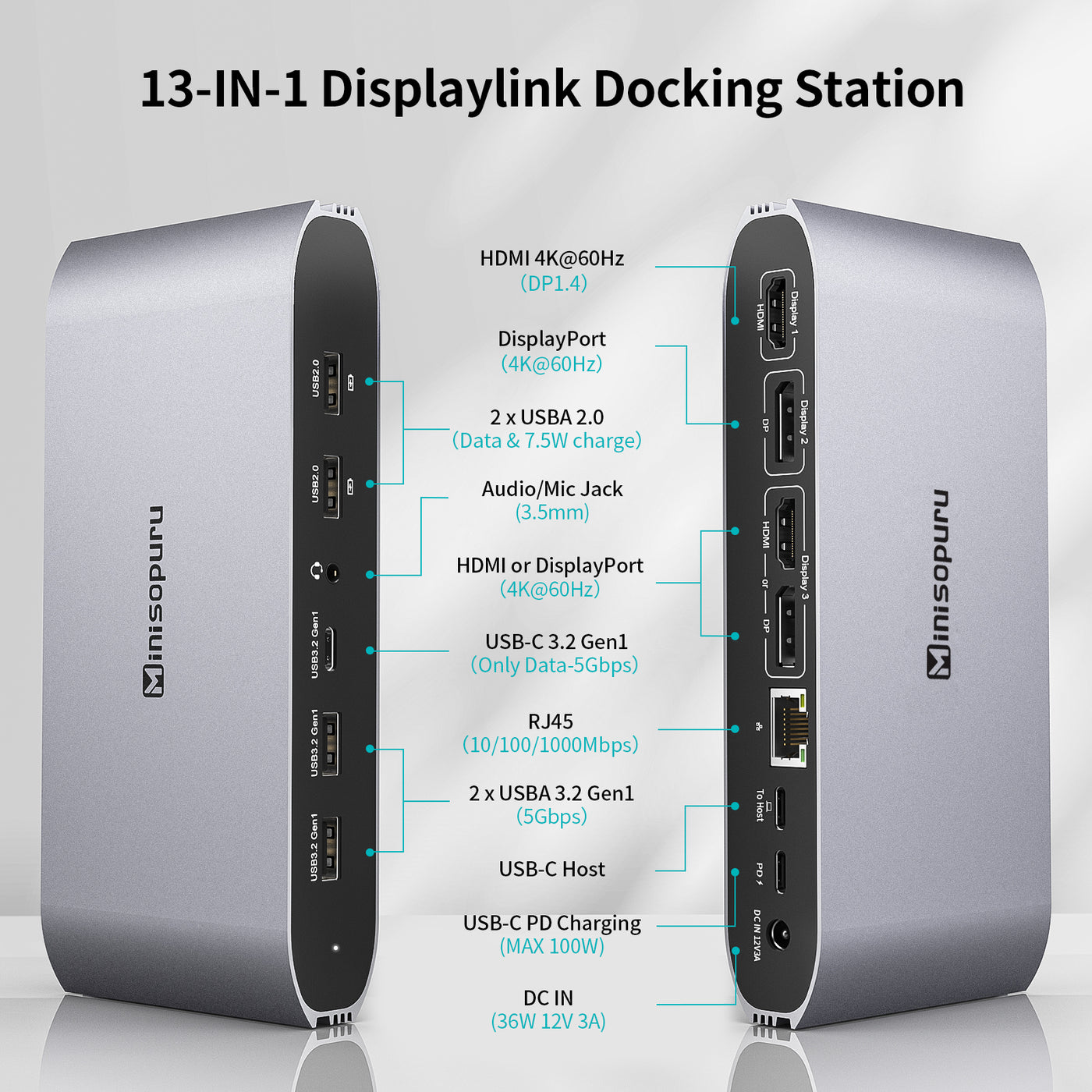 What Ports Can be Extended
The Minisopuru displaylink dock with 36W power adapter expand 12 ports for daily use:2*4K HDMI+ 2*4K displayport+2* 5Gbps USBA 3.2 Gen1 port(only data)+ 5Gbps USB C 3.2 Gen1 port(only data)+ 100W USB-C PD(Max)+ 2*USBA 2.0 ports(data & charge)+ Gigabit Ethernet+ 3.5 mm audio/Mic jack.
★Note: The Minisopuru docking station must connect the 36W DC power adapter, otherwise it will not work.
Super Speed Data Transfer & Fast Charging
The two USB A 2.0 ports of the laptop docking station not only can connect the keyboard and mouse, but also provides 7.5W power to charge your phone or other devices.And the USB docking station has two 5Gbps USB-A 3.2 Gen1 ports and a 5Gbps USB-C 3.2 Gen1 port(USBA/C 3.2 Gen1 only supports data transfer), transferring 1GB of files in seconds.
In addition, you can choose the USB-C PD port (Max 100W) of the laptop dock to charge your laptop.
Laptop with USB C Port: 4K Triple Display Docking Station
The 3 monitor docking station one-stop solution to the needs of 2 types of the laptop.When MacBook Pro docking station host port connects the laptop's thunderbolt 3/4,USB4 or USB-C full-featured port can realize three different displays: HDMI(Display 1)+DP(Display 2)+DP or HDMI(Display 3)will reach 4K@60HZ(Under DP1.4).
★ Note: HDMI and DP ports in the display 3 areas of the Minisopuru USB C dock can only pick one of two.
Laptop with USB A Port: 4K Docking Station Dual Monitor
When the USB C docking station the host port connects to the USB A laptop, can realize dual different displays: DP(Display2), DP, or HDMI(Display3) will reach 4K@60HZ.
★Please note: When the USB-C host port of the dual monitor docking station is connected to the USB A port of the laptop, HDMI (Display 1)and the USB-C PD are unable to work.
Note: The dock is incompatible Dell S2740L 27 monitor. If not, please reset the Displaylink according to the "Troubleshooting Guide" in Product guides and documents, or search the "DisplayLink support ".If not solved, please contact Minisopuru.
Please use the USB2.0 port to connect your mobile phone to charge. Please refer to the above video for the correct connection method. If still not working, please contact Minisopuru official. Thank you!
Please note: The DisplayLink dock cannot play HDCP content(eg: some Netflix and YouTube paid content). When playing HDCP content, the video may not be played, the screen may turn black, and problems.
We're recommended to turn it on because the DisplayLink dock with the lid closed, or in sleep mode will automatically enter power-saving mode thereby black screen.don't worry, the laptop opens to the desktop, and unplug & plug the dock to resume.
If you cannot detect the dock after updating to macOS Ventura, please follow these steps: Privacy & Security > Screen Recording > Allow accessories to connect.