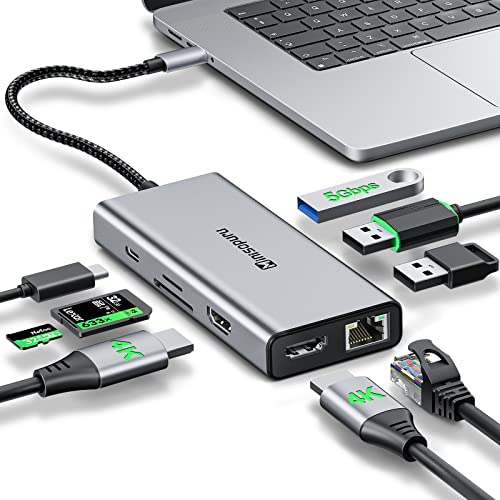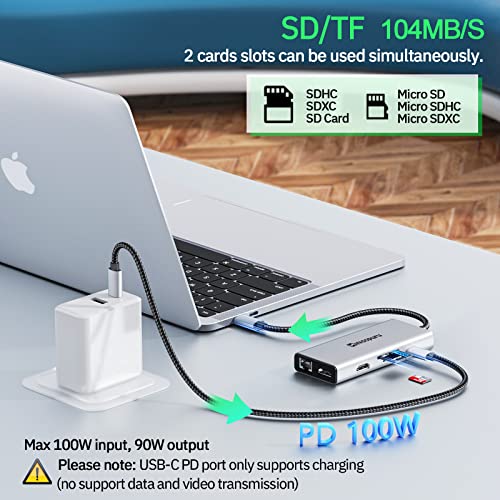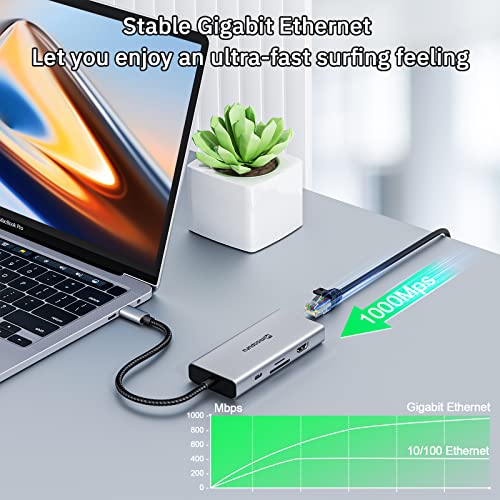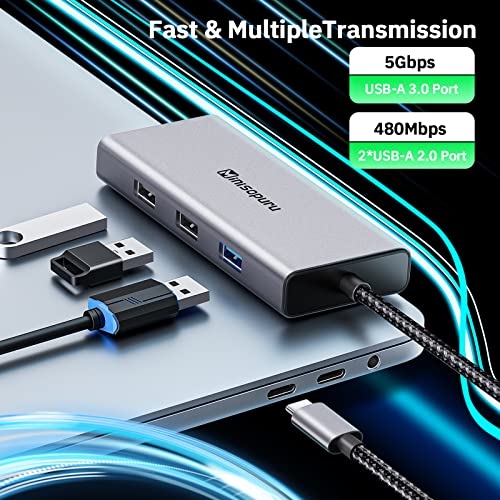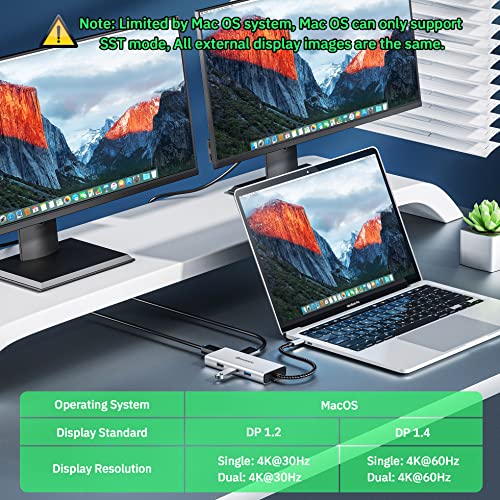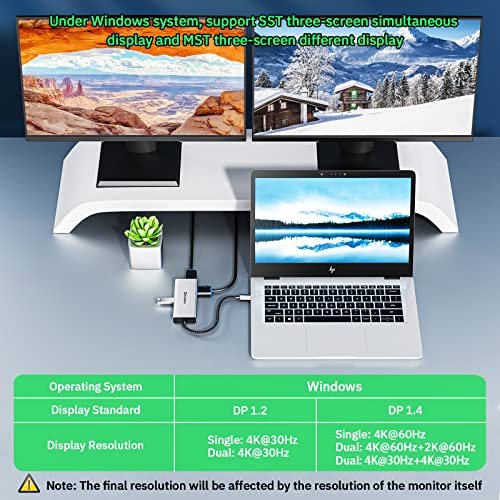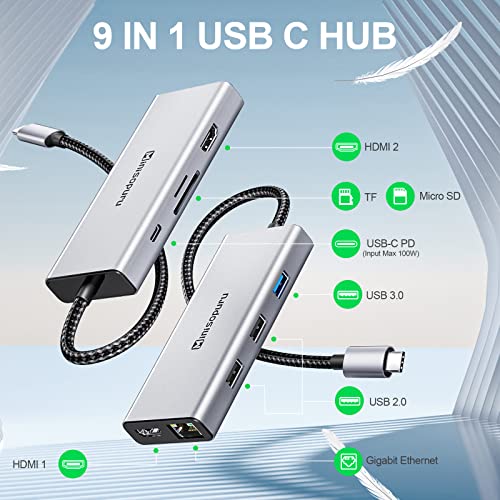 9 in 1 Laptop Docking Station with Dual 4K@60Hz | UCH805
Brand: minisopuru
Features:
【9 in 1 USB C Docking Station】Minisopuru laptop docking station perfectly combines the function of the USB C hub. 9 IN 1 USB Dock compares with the traditional docking station, it expands multiple ports without installing any drivers to meet your multiple expansion needs: 2 x 4K@60Hz HDMI, 1 x USB 3.0, Gigabit Ethernet, 2 USB2.0 for wireless mouse or keyboard, 100W charging port, SD and TF card slots.
【Widely Compatibility】The USB C docking station dual monitor is designed for laptops with full-featured USB C ports. USB C multiport adapter suitable for MacBook Pro/MacBook Air/Lenovo/Surface/Dell XPS/Chromebook, etc. (❤Note: Please ensure that the laptop's USB-C port supports video output, power transfer charging, and data transfer.)
【4K@60HZ UHD Dual Display】The USB-C Docking Station simply connects the USB-C hub with the dual HDMI port and through 2 HDMI and one laptop screen, realizing three-screen display, the highest resolution can reach 3840*2160@60Hz (in the case of DP1.4). USB C to dual HDMI adapter lets different projects can be done on different monitors and is an ideal gadget for Video editors, Photography, and Programmer. (❤Note: Limited by Mac OS system, Mac OS all external display images are the same)
【Stable and Super-Speed Data Transfer】Minisopuru laptop docking stations are equipped with a 1000Mbps Gigabit Ethernet port to let you enjoy an ultra-fast surfing feeling, 2 USB 2.0 ports are best for wireless mouse/keyboard or other USB A connected equipment, without any delay. And the USB docking station has a 5Gbps data transfer rate USB 3.0 port, which fulfills high-speed rates of data transfer and a wide range of applications at the same time.
【Fast 100W PD Charging】The laptop docking station dual monitor with one USB-C charging port, supports up to 100W of power input and output of 90W which you could securely charge connected MacBook or other Type-C laptops. The docking station for MacBook Pro has TF & SD card slots for transferring or backing up your data easily and quickly is perfect for photographers or Designer Video editors, etc.
Details: docking station usb c docking station laptop docking station laptop docking stations docking station dual monitor
Package Dimensions: 5.7 x 3.0 x 0.7 inches
Please read our shipping tips carefully before you place your order
All orders above $100 are free shipping.
Orders under $99.99 will be charged $3.95 as shipping cost.
Please Note:
Minisopuru provides fast and efficient delivery services for global customers.(But unable to deliver products at military addresses (APO/FPO) and some islands.)
The current processing time for all orders takes 2-4 days(Orders are not processed on weekends). 
Order delivery time will be at 7-15 business days(pre-sale items excluded).
International duties & taxes may apply and are not calculated at checkout.
Shipping time for pre-sale products is subject to the instructions on the product page.
Due to the requirements of logistics service providers: 
In order to get your order ready as soon as possible and avoid shipping issues, make sure to introduce an accurate postal address including your exact house number and any other info that may be necessary for the delivery company. 
Hong Kong, Macao,Korea,Turkey and Taiwan regions, please include your name, ID number and shipping address in Local Name.
30-Days RETURN:
Our return & exchange policy will be active for 30 days from the very same day you receive your product(s) at home. For more information, please visit our Shipping Policy section.