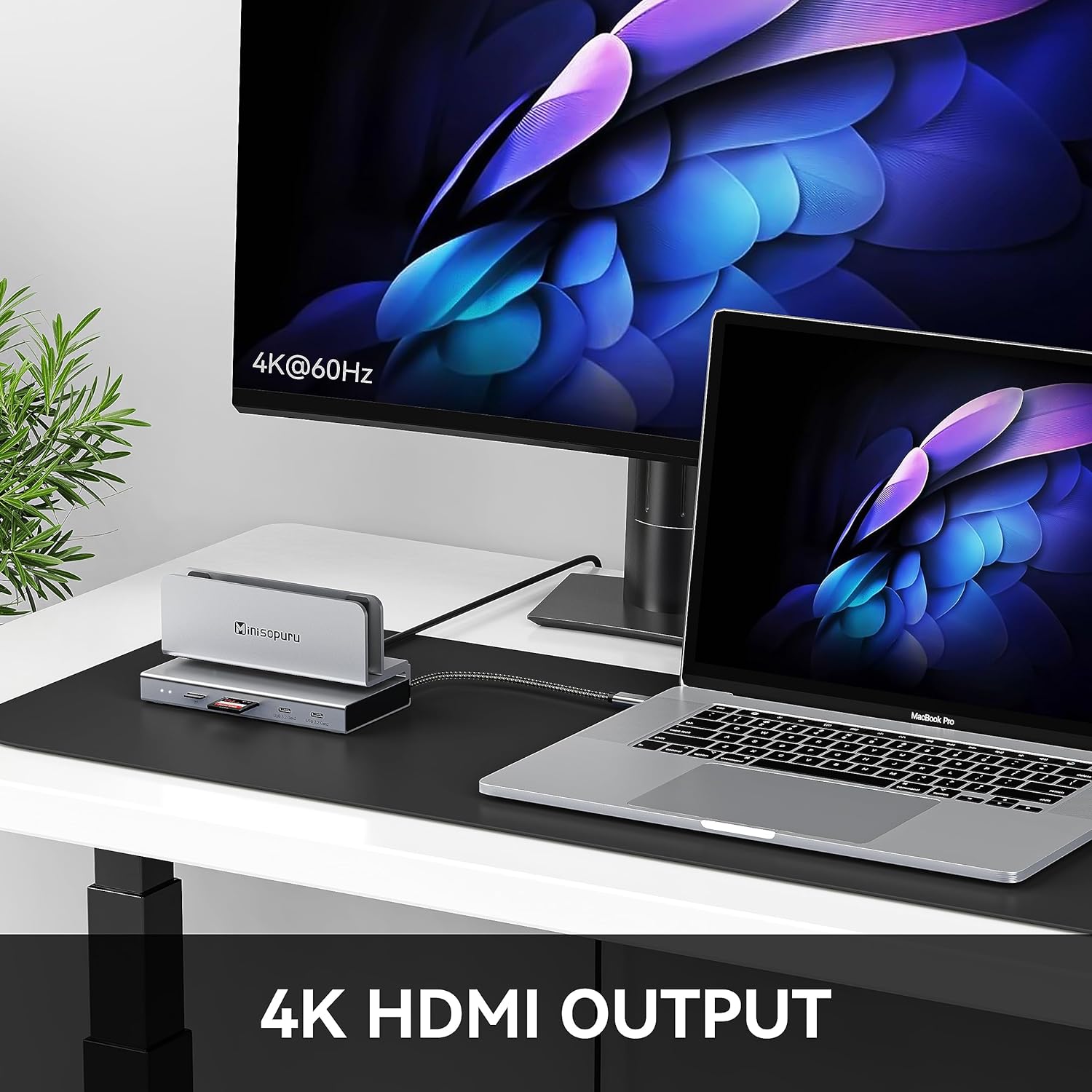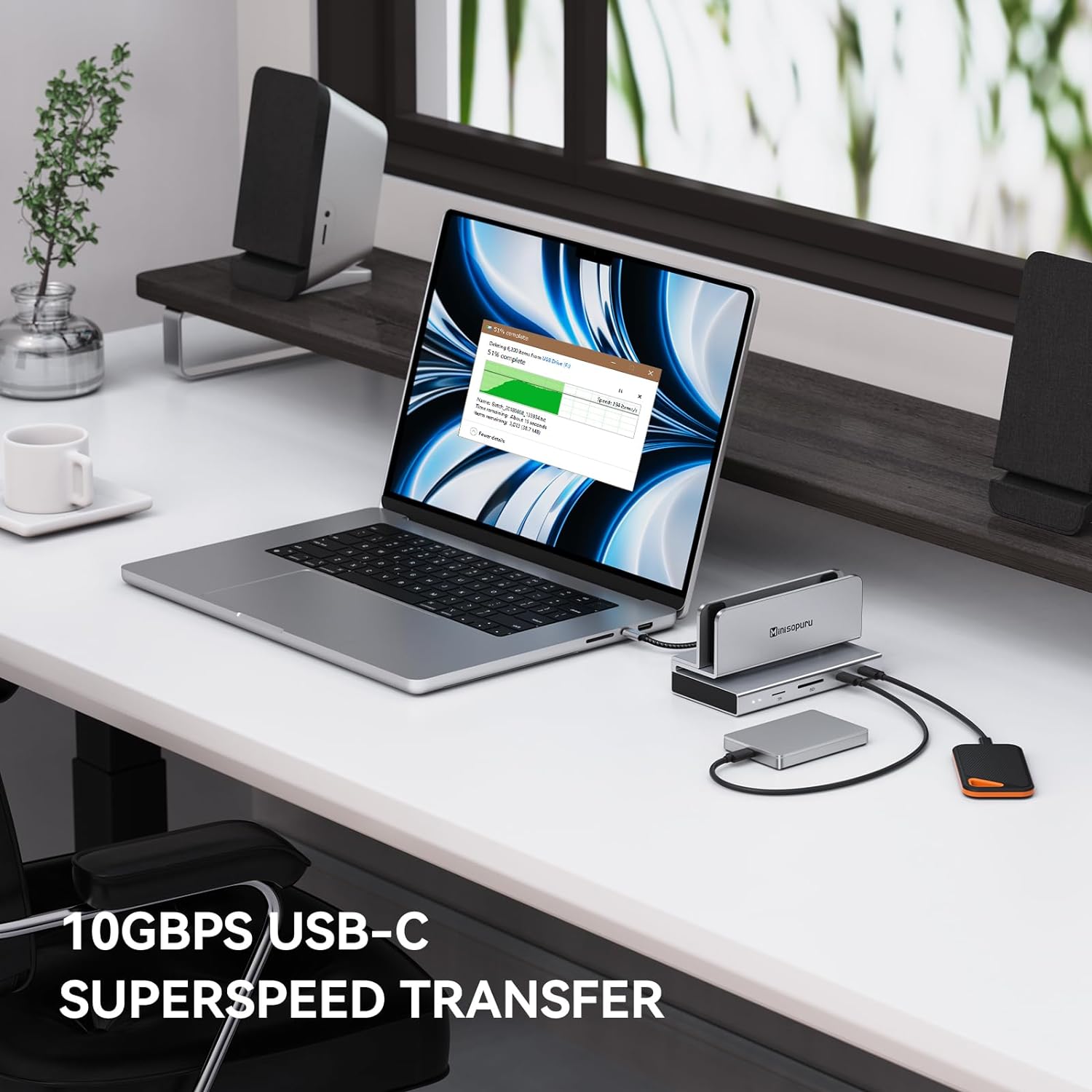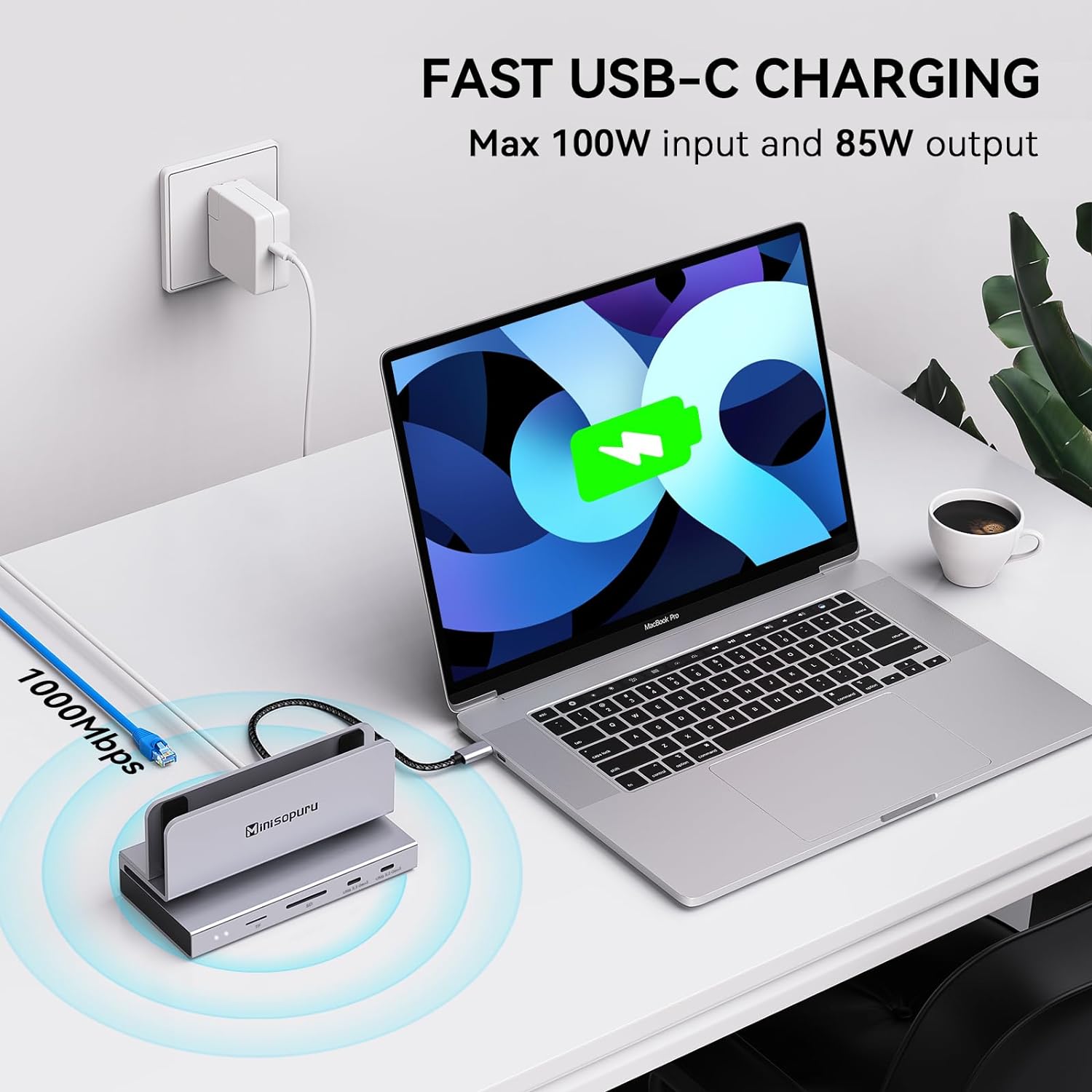 Minisopuru Thunderbolt 3/4 Docking Station for MacBook M1/M2|MD813A
Are you tired of dealing with numerous cables, adapters, and devices? Wishing for a simplified, efficient solution to turn your laptop into a dynamic workstation?
Introducing our Docking Station
We provide one-stop connectivity solution that eliminates clutter, accelerates data transfer, and effortlessly transforms your laptop into a powerful desktop. Its robust SSD support, high-speed TF/SD card slots, and versatile USB interfaces combine to deliver seamless data management.
Designed with elegance and durability in mind, its high-quality aluminum shell enhances heat dissipation, prolonging the lifespan of your station. Our unique design elements, including dual leaf clamps and an aluminum rotating nut, promise both functionality and stability.
Our previous product has received rave reviews from our satisfied customers, showcasing their high level of satisfaction and endorsement.
We provide one-stop solution for device connectivity, whether you're a MacBook user, a tablet enthusiast, a Steam Deck gamer, a professional relying on a mobile phone (with OTG function), or a pro user of a Windows Thunderbolt laptop, we provide outstanding compatibility, making communication between devices effortless.

SSD Supports 10gbps M.2 2242/2260/2280 Nvme & Sata SSD. With up to 2TB of storage, we greatly assist users in solving storage challenges.
It supports 10gbps M.2 2242/2260/2280 Nvme and Sata SSD, with a maximum capacity of up to 4TB. This means whether you're backing up work files or storing a vast amount of movies, music, or games, we offer a one-stop solution to dramatically increase your MACBOOK's storage space.
We offer a TF/SD 3.0 card slot with speeds of up to (UHS-I 150MB/S), faster than ordinary card readers to meet your efficiency needs. Whether it's recently shot photos or videos that need editing, you can quickly read and get started. We also support simultaneous reading of SD and TF cards, providing more convenience for your work and life.
It provides two 10gb USB-C interfaces, not only satisfying your needs for external SSDs through port C, but also connecting other C interface external devices, like a Web camera, mobile phone, etc. We understand that fast and stable connection services are vital for both your work and entertainment, hence we provide you with the highest quality interface services.
Benefit from two USB A interfaces, delivering up to 5Gbps transfer speed - 20 times faster than USB 2.0. Instantly connect peripherals like keyboard, mouse, or hard drive, enabling swift data transfers and an ultra-smooth entertainment experience.
Enjoy an elegant, durable design with our aluminum shell. It's not just about aesthetics - the superior thermal conductivity of aluminum helps manage heat effectively, extending the life of your docking station and preventing overheating during extended use.
Featuring a unique dual-leaf clamp design to fulfill your need to transform a closed laptop into a desktop. At home or the office, with just one press, your laptop turns into a powerful desktop, making your work and life more efficient and convenient.
It offers maximum space adaptability of 22mm, accommodating most laptops, the aluminum rotating nut provides better fixation and protection for your laptop.
Stay informed and reassured with our dual LED indicators,it instantly show you the operational status of your docking station and your storage cards. Quick, clear feedback keeps you confident during use, whether you're working or playing.
Supporting 4K UHD@60Hz and HDCP media display, offering a deeply immersive UHD experience whether you're mirroring or extending your screen to an HDTV, monitor, or projector.
Outfitted with overcurrent and overvoltage protection, our docking station supports up to 100W input and 85W output. Your Macbook can be fully charged in just 1.5 hours. Whether you're working, studying, or entertaining, there's no need to worry about running out of power.
Experience fast, reliable internet connectivity with our RJ45 Gigabit Ethernet port, capable of delivering speeds up to 1000Mbps. Download a 1GB movie in just minutes or ensure smooth online meetings and gaming sessions we've got your network needs covered
The "mini" in our name represents our focus on creating products that are portable, lightweight, and easy to carry, while the "sopuru" reflects our passion for pure, powerful, and impactful technology. We believe that technology should be intuitive and accessible to everyone, so we design our products with simplicity and ease of use in mind.

We are dedicated to creating high-quality, compact tech accessories that allow people to stay connected and interact with the digital world in a seamless and convenient way, our products are designed and engineered with the highest standards of quality, durability, and performance.We are proud to offer a wide range of products that are designed to make our customers' digital lives more enjoyable and effortless. Whether you need a mini docking hub, a portable charger, or any other mini-tech accessory, we've got you covered.

Please read our shipping tips carefully before you place your order
All orders above $100 are free shipping.
Orders under $99.99 will be charged $3.95 as shipping cost.
Please Note:
Minisopuru provides fast and efficient delivery services for global customers.(But unable to deliver products at military addresses (APO/FPO) and some islands.)
The current processing time for all orders takes 2-4 days(Orders are not processed on weekends). 
Order delivery time will be at 7-15 business days(pre-sale items excluded).
International duties & taxes may apply and are not calculated at checkout.
Shipping time for pre-sale products is subject to the instructions on the product page.
Due to the requirements of logistics service providers: 
In order to get your order ready as soon as possible and avoid shipping issues, make sure to introduce an accurate postal address including your exact house number and any other info that may be necessary for the delivery company. 
Hong Kong, Macao,Korea,Turkey and Taiwan regions, please include your name, ID number and shipping address in Local Name.
30-Days RETURN:
Our return & exchange policy will be active for 30 days from the very same day you receive your product(s) at home. For more information, please visit our Shipping Policy section.