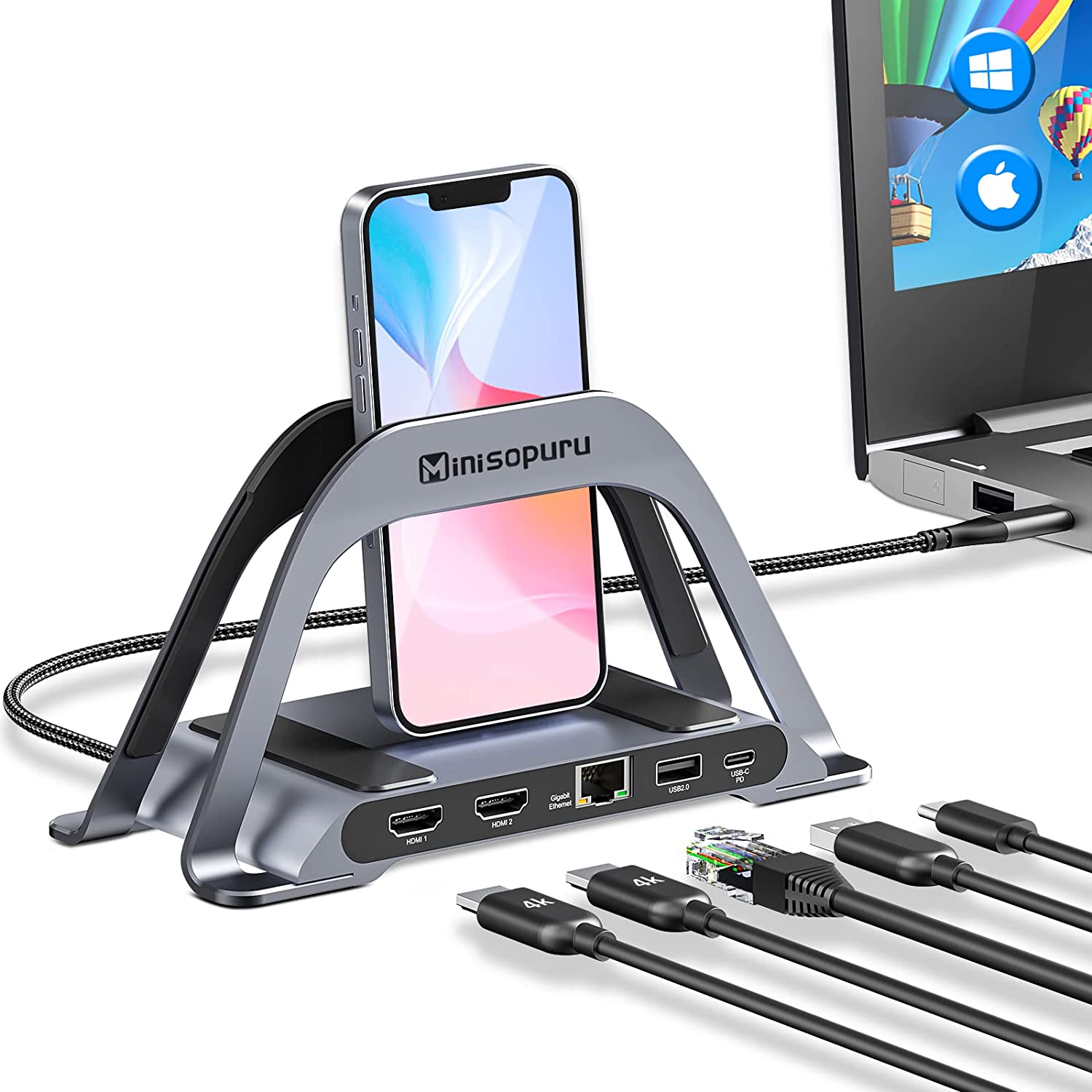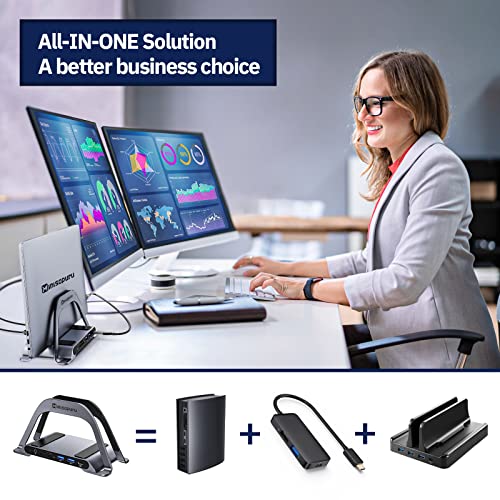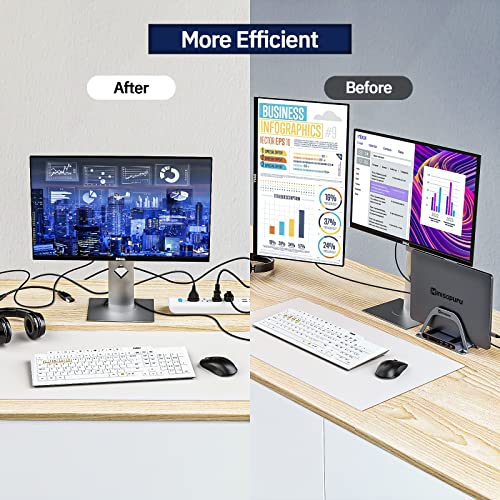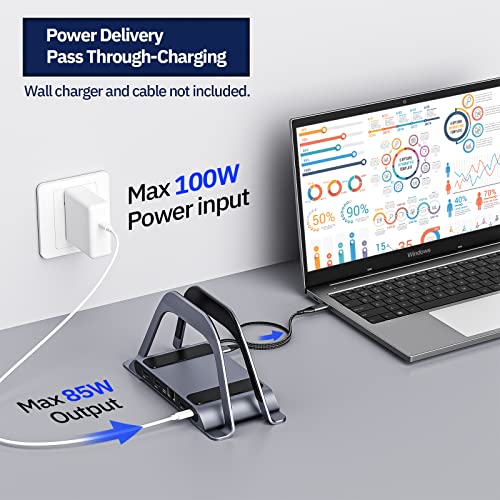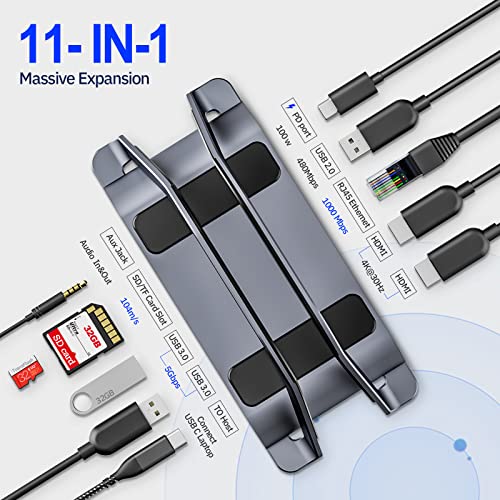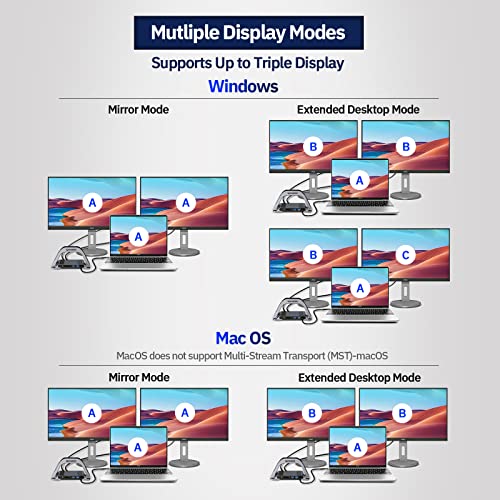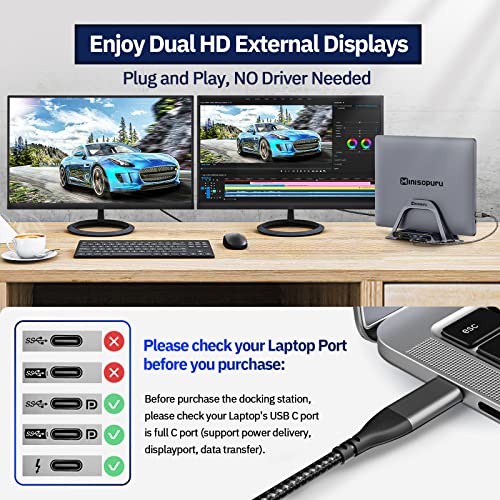 10 in 1 Laptop Docking Station with Dual 4K@30hz HDMI | DS801-C
Brand: minisopuru
Features:
【Three Screen Docking Station】Minisopuru USB C docking station supports SST and MST (AAA/ABB/ABC) for Windows OS, dual HDMI resolution up to 3840x2160@30Hz, you can mirror or extend clear 4K high quality video experience through 2 HDMI ports, Mac OS only supports SST (AAA/ABB), MST is not supported. (Note: All external display images are the same on MacOS, due to OS limitations).
【10 in 1 USB C Docking Station】Minisopuru USB C Laptop Docking Station perfectly combines the function of a USB C hub, it can also be used as a laptop stand when the laptop lid is closed. Expand multiple ports without installing any drivers: 2 x 4K HDMI, 2 x USB 3.0 (up to 5Gbps), RJ45 Gigabit Ethernet, 1 USB2.0 for wireless mouse or keyboard, 100W charging port (charging only), 3.5mm audio, SD and TF card slots (up to 104Mbp/s) are all available on the docking station.
【Reliable and Super-Speed Data Transfer】Minisopuru Laptop Docking Station is equipped with 1000Mbps Gigabit RJ45 Ethernet port, 2 USB 3.0 ports with 5Gbps data transfer rate to charge your USB devices. 1 USB 2.0 port is best for wireless mouse/keyboard, more responsive and stable due to USB 3.0 radio frequency interference wireless connection.
【100W Fast Charging and UHS-I SD/TF Storage】The Minisopuru Docking Station features a USB C PD3.0 port that supports up to 100W of power input and provides 85W of maximum power, in addition to UHS-I SD and Micro SD card slots with speeds up to 104mb/s, providing you with excellent versatile data storage and extremely fast transfer speeds (SD /TF can be used simultaneously).
【Compatibility】The USB-C Docking Station Dual Display is designed for laptop hosts with full-featured USB C ports, ensuring that the laptop's USB C port supports video output, power transfer charging, and data transfer. (NOTE: It is not recommended to use any additional adapters)
model number: DS801-C
Details: Multifunctional docking station combined with notebook base Minisopuru DS801-C Docking Station (11-in-1) Don't waste time switching back and forth between programs or documents. Simply connect to an external monitor via the 4K HDMI port for an easier and more efficient experience. Triple Display (Note: Laptop Screen & External Monitor & External Monitor Windows: Support AAA/ABB/ABC macOS: Support AAA/ABB Model: DS801-C Minisopuru DS801-C Docking Station (11 in 1) High-speed data transfer, pass-through charging, and 4K media center Transfer files in seconds Stream movies, photos, and music at speeds up to 10 Gbps via the USB-C data port and dual USB-A ports. Power supply compatible Supports up to 100W (minus 15W when running) pass-through charging, so you can power your 15-inch MacBook Pro at full speed—while accessing the hub's other features. (The charger is not included, it is recommended to use the original notebook adapter). Quick Connect Connect your wireless router to the hub's Ethernet port to access a stable wired internet connection up to 1 Gbps.
Package Dimensions: 8.0 x 4.1 x 3.3 inches
Please read our shipping tips carefully before you place your order
All orders above $100 are free shipping.
Orders under $99.99 will be charged $3.95 as shipping cost.
Please Note:
Minisopuru provides fast and efficient delivery services for global customers.(But unable to deliver products at military addresses (APO/FPO) and some islands.)
The current processing time for all orders takes 2-4 days(Orders are not processed on weekends). 
Order delivery time will be at 7-15 business days(pre-sale items excluded).
International duties & taxes may apply and are not calculated at checkout.
Shipping time for pre-sale products is subject to the instructions on the product page.
Due to the requirements of logistics service providers: 
In order to get your order ready as soon as possible and avoid shipping issues, make sure to introduce an accurate postal address including your exact house number and any other info that may be necessary for the delivery company. 
Hong Kong, Macao,Korea,Turkey and Taiwan regions, please include your name, ID number and shipping address in Local Name.
30-Days RETURN:
Our return & exchange policy will be active for 30 days from the very same day you receive your product(s) at home. For more information, please visit our Shipping Policy section.