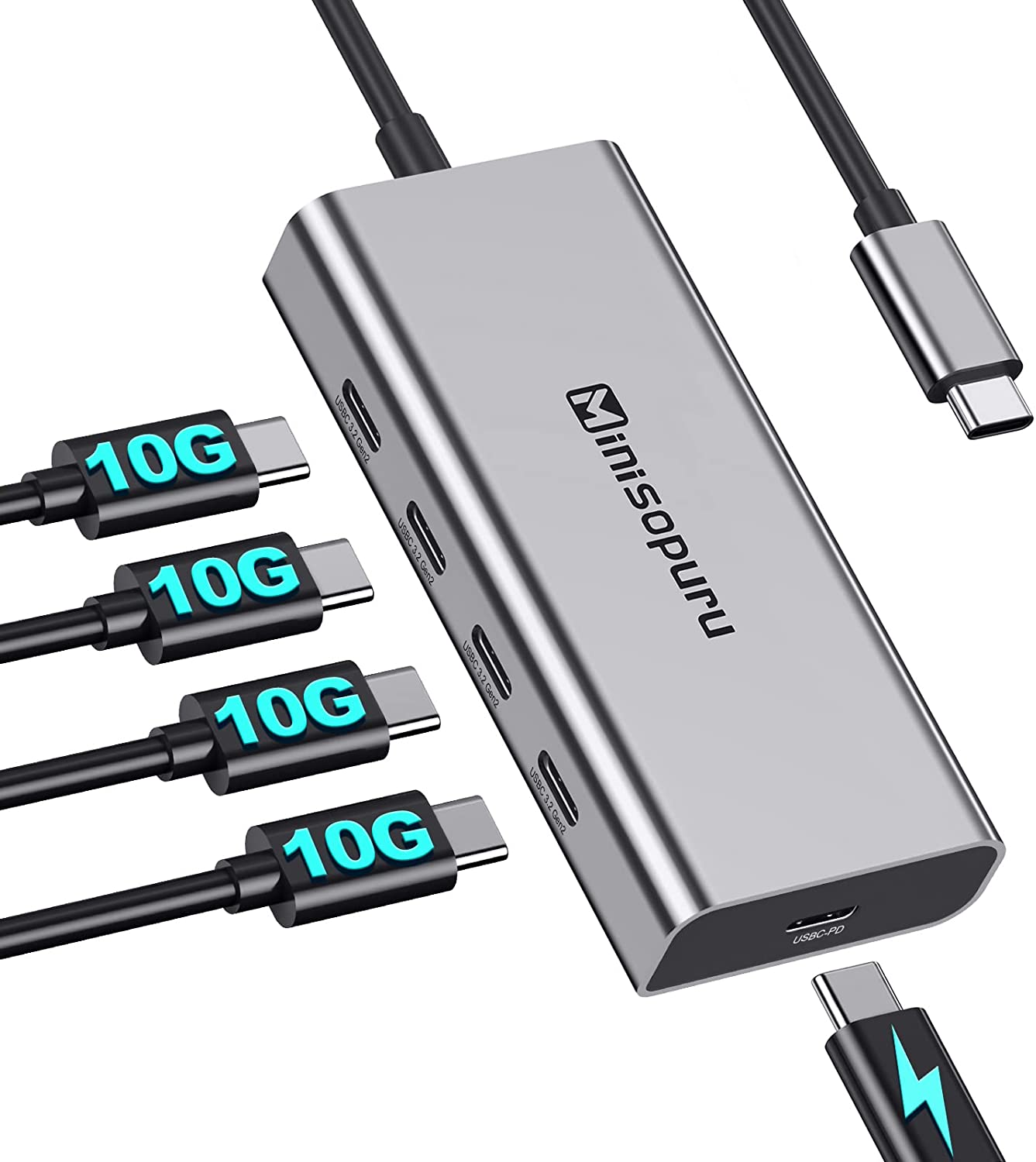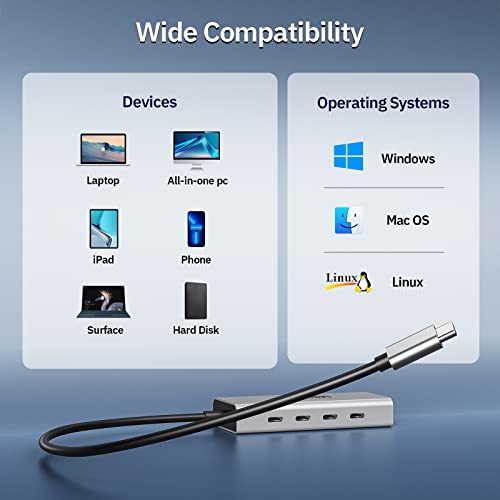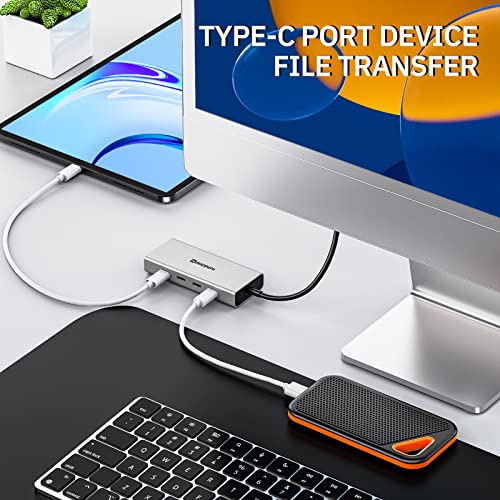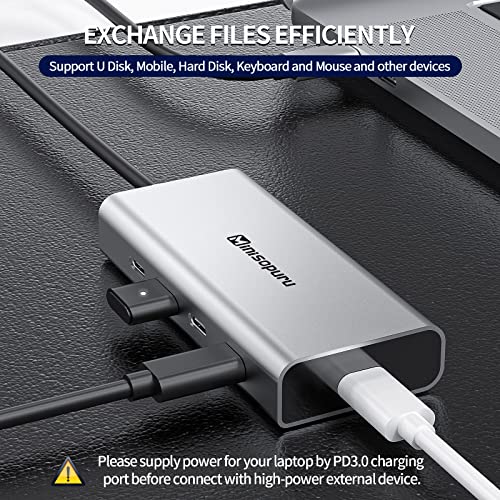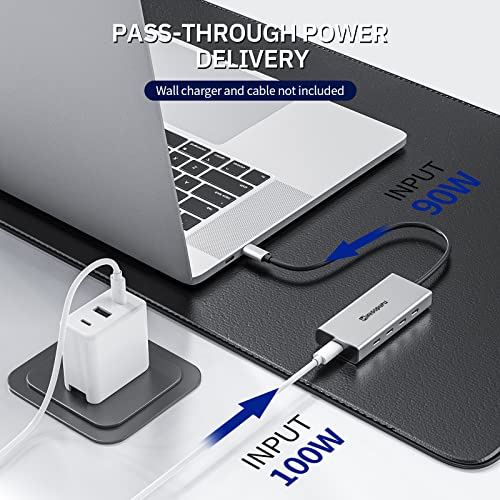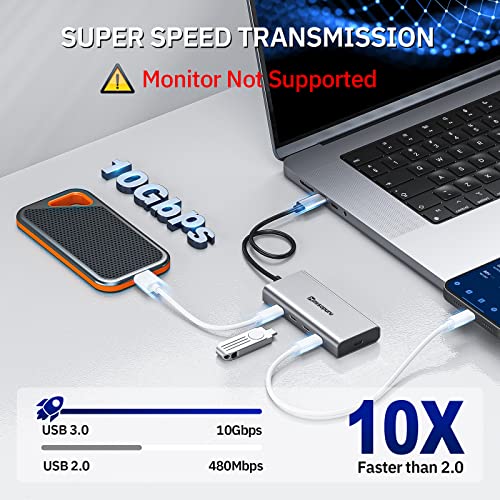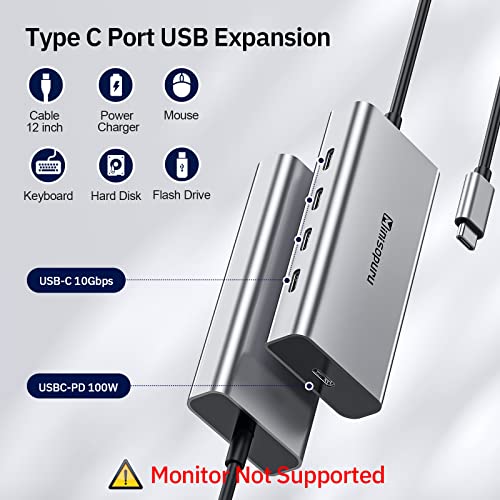 10Gbps USB C Hub with 100W PD Charge【Not Support Video】|BD118G
Brand: minisopuru
Color: Grey
Features:
📢【Note Before Purchase】: This USB c hub multiport adapter ONLY supports data transfer and Power Delivery, NOT supports connecting the monitor. Please supply power for your laptop by PD3.0 charging port before connecting with a high-power external device. ( # We recommend NOT inserting three external hard drives at the same time. # ) for Laptop, Data Transfer Only (Not Support Monitor) USB C to USB C Hub 10Gbps USB Hub Multiport Adapter
⚡【Extra 4 USB C Data Ports】: Equipped with 4 USB3.2 Gen1 data ports, the Minisopuru USB C Hub can easily connect multiple USB C devices to the laptop and quickly transfer files. A single USB C port connects more Type-C external devices including hard drives, flash drives, mice, etc.
⚡【100W PD USB C Hub Power Delivery】: The USB docking station power port supports up to 100W input and up to 90W (safe) output power to charge your laptop. This USB C HUB is equipped with multiple USB c ports to make the device more diverse to meet daily needs. Easy to use, plug and play, no need to install additional drives to expand multiple USB c ports.
⚡【10Gbps Superspeed Transmission】: USB C Hub expands a single Type-c port into 4 USB C ports up to 10Gbps, transferring or backing up your data easily and quickly. Complete work efficiently in seconds, Minisopuru USB C to USB c Hub is compatible with USB2.0. Please note that to achieve 10Gbps speed, you need to configure the corresponding data cable.
⚡【Strong Compatibility】: USB-c hub works for all devices configured with a USB c port. Compatible with: Macbook pro 16 inch, 2021/2020/2019/2018/2017/2016 Macbook Pro, 2020/2018 Macbook Air, 2021/2019/2017 iMac, 2021/2020/2018 iPad Pro, Microsoft Surface Laptop 3/Surface Pro 8/ Go, Chromebook, Google PixelBook Go, Galaxy Tab Pro S, HP Spectre Convertible, Razer Blade, Huawei Matebook, Thunderbolt 3/4, USB4 devices.
Package Dimensions: 5.2 x 2.5 x 0.7 inches
Please read our shipping tips carefully before you place your order
All orders above $100 are free shipping.
Orders under $99.99 will be charged $3.95 as shipping cost.
Please Note:
Minisopuru provides fast and efficient delivery services for global customers.(But unable to deliver products at military addresses (APO/FPO) and some islands.)
The current processing time for all orders takes 2-4 days(Orders are not processed on weekends). 
Order delivery time will be at 7-15 business days(pre-sale items excluded).
International duties & taxes may apply and are not calculated at checkout.
Shipping time for pre-sale products is subject to the instructions on the product page.
Due to the requirements of logistics service providers: 
In order to get your order ready as soon as possible and avoid shipping issues, make sure to introduce an accurate postal address including your exact house number and any other info that may be necessary for the delivery company. 
Hong Kong, Macao,Korea,Turkey and Taiwan regions, please include your name, ID number and shipping address in Local Name.
30-Days RETURN:
Our return & exchange policy will be active for 30 days from the very same day you receive your product(s) at home. For more information, please visit our Shipping Policy section.